So, this month I decided it would be a good idea to set a TBR (to be read) pile for March, even though University has already started and I don't have most free time. And don't be fooled by my lack of time, because I still picked too many books to read in March. Let's see them!
Então, este mês eu decidi que seria uma boa ideia definir uma TBR (to be read, ou seja, uma pilha de livros que quero ler) em Março, apesar de a universidade já ter começado e eu não ter tanto tempo livre. E não se deixem enganar pela minha falta de tempo, porque ainda escolhi demasiados livros para ler em Março.
Vamos lá vê-los!
If I Was Your Girl - Meredith Russo
For Christmas, I asked for
If I Was Your Girl
because I've been hearing such amazing complements about it, so I had to get it!
If I Was Your Girl is about a transexual girl who moves to a different city, so that she can have a fresh start. It sounds so good!
No natal, pedi If I Was Your Girl porque já tinha ouvido coisas fantásticas sobre o livro, e por isso tinha que tê-lo!
If I Was Your Girl é sobre uma rapariga transexual que se muda para uma cidade diferente, para poder ter um novo começo. Parece ser tão bom!
Vision in Silver/Visão de Prata - Anne Bishop
Portuguese Edition/English Edition
A book I have to read is Vision in Silver! I started The Others series back in January and I'm hooked, so I need to know what will happen in this third book!
Um livro que tenho que ler é Visão de Prata! Comecei a série Os Outros em Janeiro e estou viciada, então preciso de saber o que vai acontecer neste terceiro livro!
Ready Player One - Ernest Cline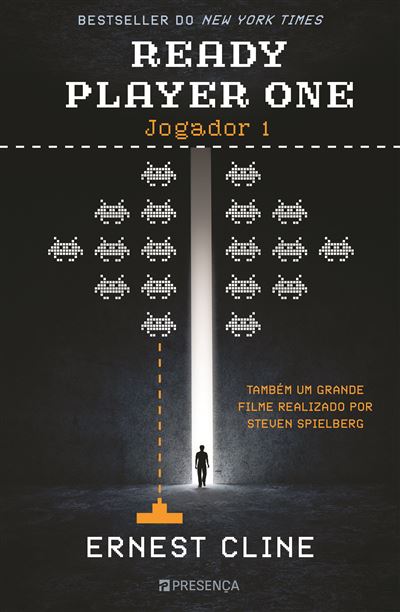 Ready Player One
is one of those books that everyone has read, but me. Besides that, everyone loves this book and people are always praising it.
Well, time as come! I'll be reading it with a bunch of people at Read-along, which is a Goodreads group that was created to read books with other people, and then discuss our opinions about it. I'm excited!
Ready Player One é um daqueles livros que toda gente já leu, mas eu. Para além disso, toda gente adora este livro e estão sempre a elogiá-lo.
Bom, o mês chegou! V
ou lê-lo com algumas pessoas no Read-along, que é um grupo no Goodreads que foi criado para ler livros com outras pessoas e, em seguida, discutir as nossas opiniões sobre ele. Estou animada!
Remember Me?/Diz-me Quem Sou - Sophie Kinsella
Portuguese Edition/English Edition
Sophie Kinsella is one of those authors I love to read because she always makes me laugh! So, I'm hoping that
Remember Me?
will be a funny, cute and fast-paced novel.
Sophie Kinsella é uma daquelas autoras que adoro ler, porque ela faz-me sempre rir! Assim sendo, estou com esperanças de que Diz-me Quem Sou seja um livro engraçado, fofo e rápido de se ler.
Goodreads | Buy the Book! | Compra o livro!
The Upside of Unrequited - Becky Albertalli
I received
The Upside of Unrequited
on Netgalley, and I confess that I don't know much about this book, besides that it's written by Becky Albertalli and that everyone is excited to read it next April. I still haven't read the other book she wrote -
Simon vs. the Homo Sapiens Agenda
- but everyone loves that book, so I decided that I should give this author a try!
Recebi The Upside of Unrequited no Netgalley, e confesso que não sei muito sobre este livro, para além de que é escrito pela Becky Albertalli e que toda gente está animada para lê-lo em Abril. Eu ainda não li o outro livro que ela escreveu - Simon vs Homo Sapiens Agenda - mas toda gente adora esse livro, então decidi dar uma tentativa a esta autora!
Goodreads | Buy the Book!
Here We Are: Feminism for the Real World - Kelly Jensen
This last book is very special to me, because it was written by a compilation of authors that want to discuss Feminism, and in the synopsis you can read - Here We Are is a response to lively discussions about the true meaning of feminism on social media and across popular culture - so how can I not be excited to read it?
Este último livro é muito especial para mim, porque foi escrito por uma compilação de autores que querem discutir o Feminismo, e na sinopse lê-se: Here We Are é uma resposta a vivas discussões sobre o verdadeiro significado do feminismo nos meios sociais e na cultura popular. Como é que eu não podia estar animada para ler este livro?
Goodreads | Buy the Book!