Hi!
I got a copy of this book via Netgalley for free in an exchange for an honest review, so here's my review of this book!
Thank you Disney-Hyperion!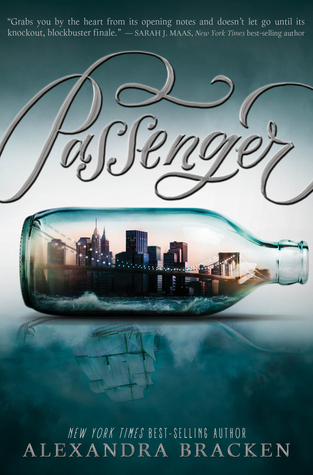 Title:
Passenger
(Passenger #1)
Author:
Alexandra Bracken
Published by:
Disney-Hyperion
Pages:
464
ISBN:
9781492622468
Goodreads
|
Buy the book!
Synopsis:
In one devastating night, violin prodigy Etta Spencer loses everything she knows and loves. Thrust into an unfamiliar world by a stranger with a dangerous agenda, Etta is certain of only one thing: she has traveled not just miles but years from home. And she's inherited a legacy she knows nothing about from a family whose existence she's never heard of. Until now.
Nicholas Carter is content with his life at sea, free from the Ironwoods—a powerful family in the colonies—and the servitude he's known at their hands. But with the arrival of an unusual passenger on his ship comes the insistent pull of the past that he can't escape and the family that won't let him go so easily. Now the Ironwoods are searching for a stolen object of untold value, one they believe only Etta, Nicholas' passenger, can find. In order to protect her, he must ensure she brings it back to them— whether she wants to or not.
Together, Etta and Nicholas embark on a perilous journey across centuries and continents, piecing together clues left behind by the traveler who will do anything to keep the object out of the Ironwoods' grasp. But as they get closer to the truth of their search, and the deadly game the Ironwoods are play­ing, treacherous forces threaten to sep­arate Etta not only from Nicholas but from her path home . . . forever.
As I said before, I requested this e-ARC from Netgalley and I was sure I wasn't going to get it... but I did, and I was so happy about it that I had to immediately start this book!
Alexandra Bracken is well known in the BookTube and BookBlog community for her previous series, 'The Darkest Minds' series, and while I haven't read that series I always wanted to read something written by Bracken and this was my chance! And a great one, I might add because the concept of this book is about time travelling which I love! And with all of this, I can honestly say that I had high expectations for 'Passenger'.
But I was disappointed…
There were a lot of things that I didn't like about this book, and I think I will start with those since this list is bigger than the list of things I actually did like.
First of all, I didn't enjoy Alexandra Bracken's writing. In the beginning, I was struggling with it because, as a non-native English speaker, there were words and expressions that I couldn't understand even though I've read a lot of books written in English.
Bracken's writing is really meticulous and she tries to make it as beautiful as possible which doesn't make it any easier to understand. And you can say that is not the author's problem, that it is my problem because I am the one who wasn't born in any English speaking country, and I agree with you!
The thing is, in the beginning, the writing was difficult to understand but after a while it got better and I could follow it completely, but then it got boring…
There were a lot of parts that I think it could had been cut out such as internal thoughts that did not lead to anywhere.
Secondly, 'Passenger' wasn't one of those books that had my attention after a few pages… It took me a long while to be able to actually finish 464 pages (which for me it's not long) and I believe that I was only able to finish it because I pushed myself to do so!
I also didn't thought that the characters were that interesting, except for Nicholas (who was born a long time before Etta's) and Alice (who was so sweet and nice).
But there was one character that I truly hated: Rose, Etta's mother. In the beginning, I liked her just fine but in the end of the book, as we discover some facts about the performance night and how she played with her daughter's life, my only feeling towards her is hate. Rose can't love Etta as a daughter if she's able to put her in such danger, and I hate her for that.


I didn't like the love interest between Etta and Nicholas because it seemed too rush and sometimes they would be fighting and then they would make out, which made no sense to me at all!
The first thought that I had after finishing 'Passenger' was that I hated it!
But after consideration, I admit that the ending wasn't as bad and if the readers enjoyed this book then it would make them want to read the next one so they could find out what happened next… for me? I don't know. I honestly don't care that much about what happens next but I also would like to know how Nicholas would play things out after this. As you can see, I truly don't know if I will indeed read the next book.
Even though I had so many problems with 'Passenger'
there were some aspects of it that I actually liked.
The first thing was the history elements! I love History and that is a subject that I study in school with some depth so reading this book while it took place during so many important years such the II World War and the American Revolution and so many others, was wonderful!
But I also think that Alexandra Bracken should had explained more about what led to those moments, for example what led to the II World War and what happened during that time because not all of her readers will know those things...
The other aspect that I really enjoyed was how much hard work all of this took: the plot was so rich, the time traveller concept is kind of hard but it wasn't that difficult to follow, the mention of feminism and racism, the study behind all the history that is written in this book and so on… All of this makes me admire Alexandra Bracken since writing this kind of book is not easy and she, with a few bumps, did it!
To conclude,
I have to say that I was really disappointed with 'Passenger'
because I had high expectations before starting it.
I still don't know if I'll keep reading this series, or even if I'll read The Darkest Minds series by the same author since I didn't enjoy her writing.
I gave 'Passenger' 3 stars on Goodreads after much thought because I wasn't certain if it actually deserved this 3 stars...
If you like Alexandra Bracken's writing and if time traveling is appealing to you, I totally recommend this book. If you, as myself before reading this, haven't read anything by her and want to read this particular book I recommend you to try it but I don't know if you're going to enjoy, maybe yes maybe not.
This was my completely honest opinion and I hope you liked it!
This review was originally published on TheBooktarian in 20/12/2015.