Olá!
Há pouco tempo acabei a trilogia "Shatter Me" da Tahereh Mafi e hoje, decidi contar-vos o que achei.
Esta opinião é um pouco diferente porque não é só sobre um livro mas sim, neste caso, três livros. E se ainda não começaram esta trilogia, recomendo que comecem porque é fantástica!
Mas infelizmente, ainda não foi publicada cá em Portugal.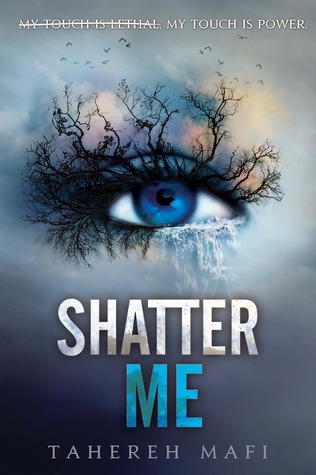 Título:
Shatter Me
(Shatter Me #1)
Autor(a):
Tahereh Mafi

Editora:
HarperCollins

Páginas:
340

ISBN:
9780062085504
Goodreads
|
Compra o livro!
Sinopse:
Juliette hasn't touched anyone in exactly 264 days.
The last time she did, it was an accident, but The Reestablishment locked her up for murder. No one knows why Juliette's touch is fatal. As long as she doesn't hurt anyone else, no one really cares. The world is too busy crumbling to pieces to pay attention to a 17-year-old girl. Diseases are destroying the population, food is hard to find, birds don't fly anymore, and the clouds are the wrong color.
The Reestablishment said their way was the only way to fix things, so they threw Juliette in a cell. Now so many people are dead that the survivors are whispering war – and The Reestablishment has changed its mind. Maybe Juliette is more than a tortured soul stuffed into a poisonous body. Maybe she's exactly what they need right now.
Juliette has to make a choice: Be a weapon. Or be a warrior.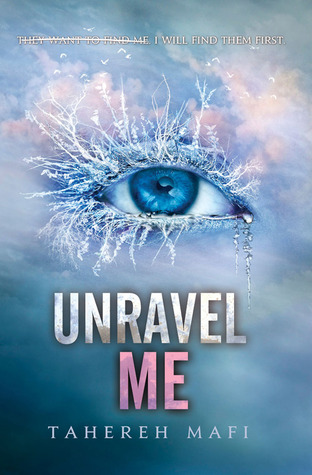 Título:
Unravel Me
(Shatter Me #2)
Autor(a):
Tahereh Mafi

Editora:
HarperCollins

Páginas:
461

ISBN:
9780062085542
Goodreads
|
Compra o livro!
Sinopse:
tick
tick
tick
tick
tick
it's almost
time for war.
Juliette has escaped to Omega Point. It is a place for people like her—people with gifts—and it is also the headquarters of the rebel resistance.
She's finally free from The Reestablishment, free from their plan to use her as a weapon, and free to love Adam. But Juliette will never be free from her lethal touch.
Or from Warner, who wants Juliette more than she ever thought possible.
In this exhilarating sequel to Shatter Me, Juliette has to make life-changing decisions between what she wants and what she thinks is right. Decisions that might involve choosing between her heart—and Adam's life.
Título:
Ignite Me
(Shatter Me #3)
Autor(a):
Tahereh Mafi

Editora:
HarperCollins

Páginas:
416

ISBN:
9780062085580
Goodreads
|
Compra o livro!
Sinopse:
The heart-stopping conclusion to the New York Times bestselling Shatter Me series, which Ransom Riggs, bestselling author of Miss Peregrine's Home for Peculiar Children, called "a thrilling, high-stakes saga of self-discovery and forbidden love."
With Omega Point destroyed, Juliette doesn't know if the rebels, her friends, or even Adam are alive. But that won't keep her from trying to take down The Reestablishment once and for all. Now she must rely on Warner, the handsome commander of Sector 45. The one person she never thought she could trust. The same person who saved her life. He promises to help Juliette master her powers and save their dying world . . . but that's not all he wants with her.
The Shatter Me series is perfect for fans who crave action-packed young adult novels with tantalizing romance like Divergent by Veronica Roth, The Hunger Games by Suzanne Collins, and Legend by Marie Lu. Tahereh Mafi has created a captivating and original story that combines the best of dystopian and paranormal, and was praised by Publishers Weekly as "a gripping read from an author who's not afraid to take risks." Now this final book brings the series to a shocking and satisfying end.
A minha opinião está no seguinte vídeo e como já devem saber, o início do vídeo é sem spoilers e depois eu anuncio quando houver spoilers, por isso, quem ainda não leu este livro, pode ver o vídeo!
Espero que gostem!
Esta opinião foi originalmente publicada em TheBooktarian em 27/05/2015.